Hata Sawan ki ghata..because now we're going to talk about the legend of comedy in the Indian Cinema !! That's right… Non-other than Govinda 😀
Govinda has ruled the 90's and now with a spate of his phenomenal acting and (How can we forget?! 😀 ) his dance.
He was born on December 21, 1963, and has been an outstanding comedy hero who has done over 120 movies in his entire film carrier.
So ever in a glum mood..or finding a movie to watch while having family or friends are over at your place?? or even while traveling long distances…
Here is the Best 10 Govinda must-watch all-time favorite Comedy or Romantic movies list you can watch which will definitely crack you and everyone up in the room.
10. Bhagam Bhag (2006)
Bhagam Bhag is a Bollywood Comedy murder mystery film, starring Actor Akshay Kumar, Govinda, Paresh Rawal, Lara Datta, and Jackie Shroff.
9. Coolie No. 1 (1995)
A remake of a Telegu film, Coolie No. 1 starred Govinda paired with Karishma Kapoor while Kader Khan and Shakti Kapoor pushed the limits of tolerance.
This film is worth a watch only for Govinda and his truly phenomenal comic timing that saves the day…
8. Partner (2007)
Partner is a 2007 Bollywood romantic comedy film directed by David Dhawan. The film stars Govinda and Salman Khan, with Most Beautiful Indian Women Like Katrina Kaif and Lara Dutta. This comedy is a remake of the 2005 Hollywood film, Hitch.
7. Saajan Chale Sasural (1996)

[Govinda's Two Wives Movie]
This David Dhawan comedy shows Govinda mistakenly taking on two wives; thinking his wife Karishma is dead, the man marries Tabu only to run into Karishma again.
The rest of the film is about the actor fooling both wives and juggling lies, aided by friend Satish Kaushik.
6. Hero No. 1 (1997)
This is yet another Handsome Actor Govinda-Dhawan-Karishma film, this was a take on Rajesh Khanna's classic Bawarchi role as Govinda plays a servant who solves an entire family's problems.
Paresh Rawal, Satish Shah, and Tiku Talsania have a blast lifting it up, and that is what really makes this movie amazing.
5. Dulhe Raja (1998)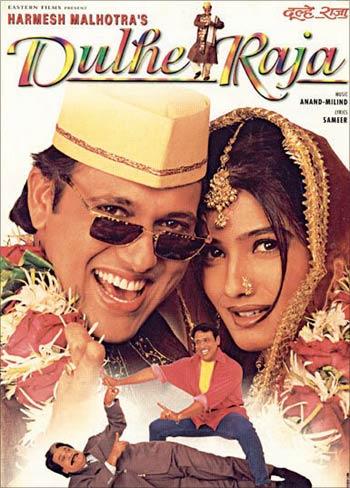 What most people don't know about this film is that it was NOT directed by David Dhawan. 😛
Harmesh Malhotra directed this amazing 1998 comedy, and it was insanely memorable because of the way Govinda got onto Kader Khan's nerves. His fans love all his Bollywood Hindi romantic songs who can forget the Govinda-Raveena dance, Ankhiyon Se Goli Maarein like Romantic Bollywood Hindi Songs of Govinda…
4. Deewana Mastana (1997)
This is another fantastic movie of Govinda's career. Govinda starred alongside Anil Kapoor as they competed for the affections of Juhi Chawla.
There were too many hysterical scenes in this David Dhawan film mostly by Johnny Lever, in one of his funniest roles and a fun plot by Anees Bazmee that kept the film on track.
Tere Bina Dil Full Video Song: Deewana Mastana | Govinda, Anil Kapoor, Juhi Chawla
3. Bade Miyan Chote Miyan (1998)
This movie stars Amitabh Bachchan, Govinda, and Raveena Tandon and was directed by David Dhawan. The story is about the duo of Big B and Govinda who work together in the police department, having their duplicates acting like criminals.
2. Haseena Maan Jayegi (1999)
In this Bollywood Hindi movie, the viewers saw Govinda and Sanjay Dutt as brothers, trying to woo Karisma Kapoor and Pooja Batra respectively.
The true highlight, however, was Govinda playing his own uncle and keeping an amorous Aruna Irani at bay in a hysterical way.
1. Raja Babu (1994)
Best remembered for Govinda's Michael Jackson impersonation, Raja Babu saw him and Shakti Kapoor engaged in some truly memorable shenanigans as the hero farcically hit on Karisma Kapoor. Obviously, David Dhawan was behind the helm, and this 1994 film saw him in top slapstick form.
"Govinda" Romantic Hits | 90's Bollywood Romantic Hindi Songs