Kanan Gill, a name that has been making all of us laugh for quite some time now. He is a YouTube-r and stand-up comedian. He is recently on his tour named, "Feelings in India with Kanan Gill". I happened to witness one in my city and my cheeks hurt real bad throughout the show. He is a pro at making people laugh. His "pretentious movie reviews" with his co-comedian, Biswa are probably the funniest takes on Bollywood ever. His fan following includes girls, mostly but even guys can't deny the fact that he is extra-ordinarily funny. He is one of those people who give us all the hope that dreams can come true.
Here are 5 reasons that make us love Kanan Gill:
1. He is mind-numbingly funny
Believe it or not, there wasn't a single moment in the entire show when I didn't laugh my lungs out. He knows his talent and plays at his strengths. To many people, he merely states obvious things in a funny way but actually he has the vision to see the comic in everything, even the most mundane situations that we see but don't observe. 
He is a man who can make your day with his wit and humor. 
And as they say that the best people are those who can make you laugh till the point when your stomach aching.
2. He is adorable
He is the most adorable stand-up comedian ever. He is so cute and charming that girls drool over him. His smile is so flattering that we can wait for hours just to see him flash his "oh-so-charming" smile at us. 
What makes him more adorable is that he bursts out laughing at his own jokes. (Needless to say that he looks super-cute while laughing, though.)
His charm would surely fetch Shaadi.com a lot of customers. He is so laid back at the tragedy that made him appear as the face of Shaadi.com that he likes to joke about it now. 
3.  He is a typical Indian guy 
Born in Bangalore, studied in a Convent school and an Engineering degree and an IT job (for 3 years though). He is the perfect recipe of how a typical Indian guy is like except that he is funny and famous. 
And also just like every other guy, he was an introvert when he was in school. Looks relate-able. Doesn't it? 
 What many people don't know about him is that he also used to write. He had a blog named "Cheesecake" that he started in 2008. 
Here is the link to the same: http://kanangill.blogspot.in/
Convent Education: Check.
Software Engineering: Check.
Job at an IT firm: Check.
Musician: Check.
Stepping stone to be the next Chetan Bhagat: Check.
So much for Desi-ness, Kanan!
But thank goodness, you didn't continue on that road. 
4. He is so relate-able 
He happens to be the most relate-able comedian today. He is Punjabi and has been brought up in Bangalore so nearly all Indians can relate to him. He rose to fame from a humble background. He left his job to follow his dreams. He sure had some obstacles but they weren't bigger than his dreams. 
So many of us don't have the courage to do that and so many of us who do, often succeed. 
Being a typical Indian gut that he is, gave him power. The power to connect with the whole India for we all can relate to him. He is one of us, only famous. 
(Refer to the point above, too.)
5. He gives us hope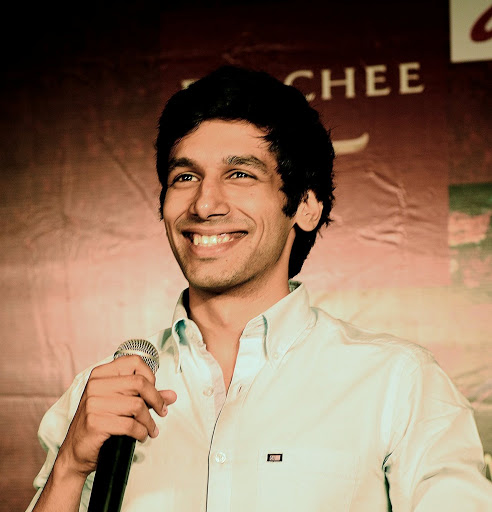 It may look far too stretched but I think he gives a lot of us hope. He has shown us all that all one needs is talent and the courage to push it beyond one's comfort zone. He has become a youth icon. When he had first stepped on the stage to start his first comedy show ever, who would have thought that a day would come when the whole country would be cheering out his name? Who would have thought that he would become such big a star? No one, perhaps. And yet here we are, reading and writing about him.
He gives us all hopes that dreams do come true. You just have to hang on to them. 
So if you're planning on doing something that sounds bizarre to many people but is your dream then go ahead. Chase it till the end and you will succeed!